This was a series of five interventions presented as part of the public program for the show 'Martín Ramírez: His life in pictures. Another Interpretation'. Sánchez Kane's moving —in both senses of the word— images, involved performers to expand the psychological depths and emotional tumult explored by Ramirez's works, focusing more specifically on the immigrant experience. The artist's interventions made use of the clothing and sculptures they had previously shown at New York Fashion Week earlier, and this represented the middle point of an arch that kept re-contextualizing the collection's pieces to carry on different meanings, up until their last iteration in that year's Mexico City's Fashion Week.
For this one-night institutional occasion, the artist collaborated with L.A. artist Rafa Esparza, and even recruited workers from the museum itself as performers. The first intervention consisted of a red door located between two performers all draped in red, linked together through the door with a red length of fabric shaped into the silhouette of a hand —the same metal hand silhouette that had previously appeared in New York as an accessory. The tableau, meant to signify the experience of leaving and being left behind, was also drenched in political and personal cues. The long red fabric referenced the ubiquitous ugly red ties worn by irate and red-faced politicians; the models wore their suit backwards, alluding to the out-of-placeness of dislocation; they also wore hats similar the one worn by the artist's mother and the dancing shoes of jarana yucateca, the folkloric dance practiced in the artist's home city of Mérida.
Other interventions included a performer wearing a shroud with the words 'gender violence kills women' and a deconstructed metal-wire bra —also re-purposed from New York— tied to pantyhose attached to the building's columns. This was an allusion to the limited use of public space that women are forced to restrict to in the name of their safety, the not-so-soft boundaries that keep them 'in their place'. Another repurposed sculpture was a metal and plastic contraption and water-bottle mohawk that was an actually functional sculpture to transport and feed water to the wearer. Rafa Esparza wore a sculpture made out of stacked white cowboy hats and knife-pointed cowboy boots —which later re-appeared in the Mexico City presentation of the collection—, using them to stab a series of oranges: repetition as a key aspect of fashion, the necessity for constant identification and the existence of multiples for endless consumption. Finally, in an activation that tied together the New York, L.A. and Mexico City versions of the collection, the idea of image as trace appeared. This time with a performer using the mecapalero technique of transporting and moving objects with one's forehead, to move forward two massive tractor wheels covered in red to leave a bloody trace behind them.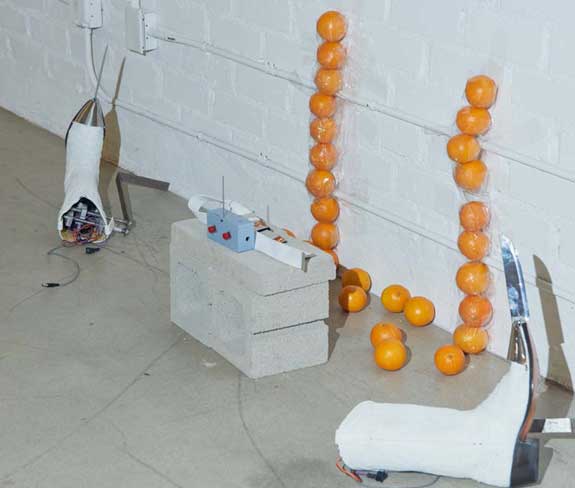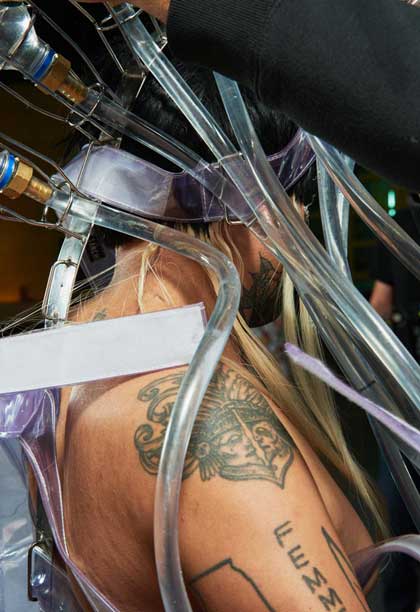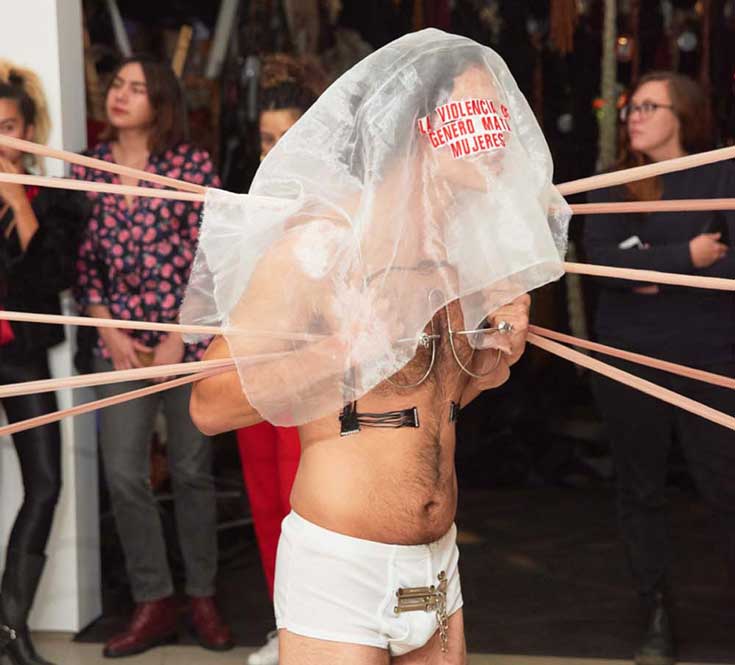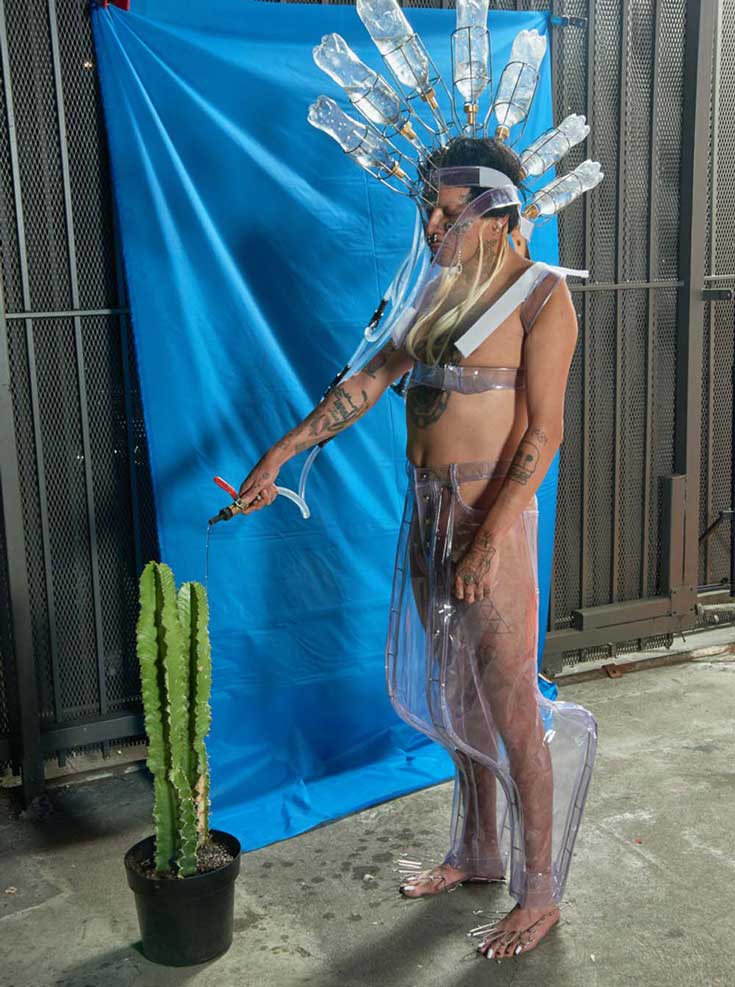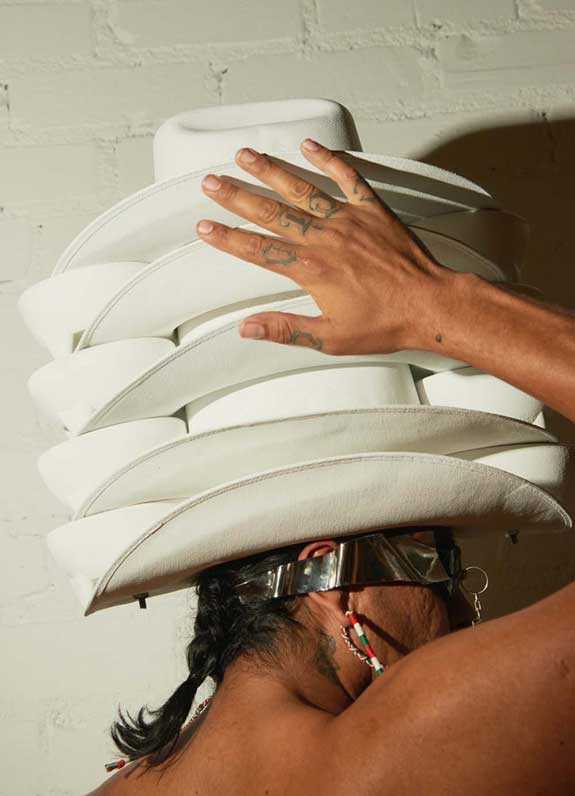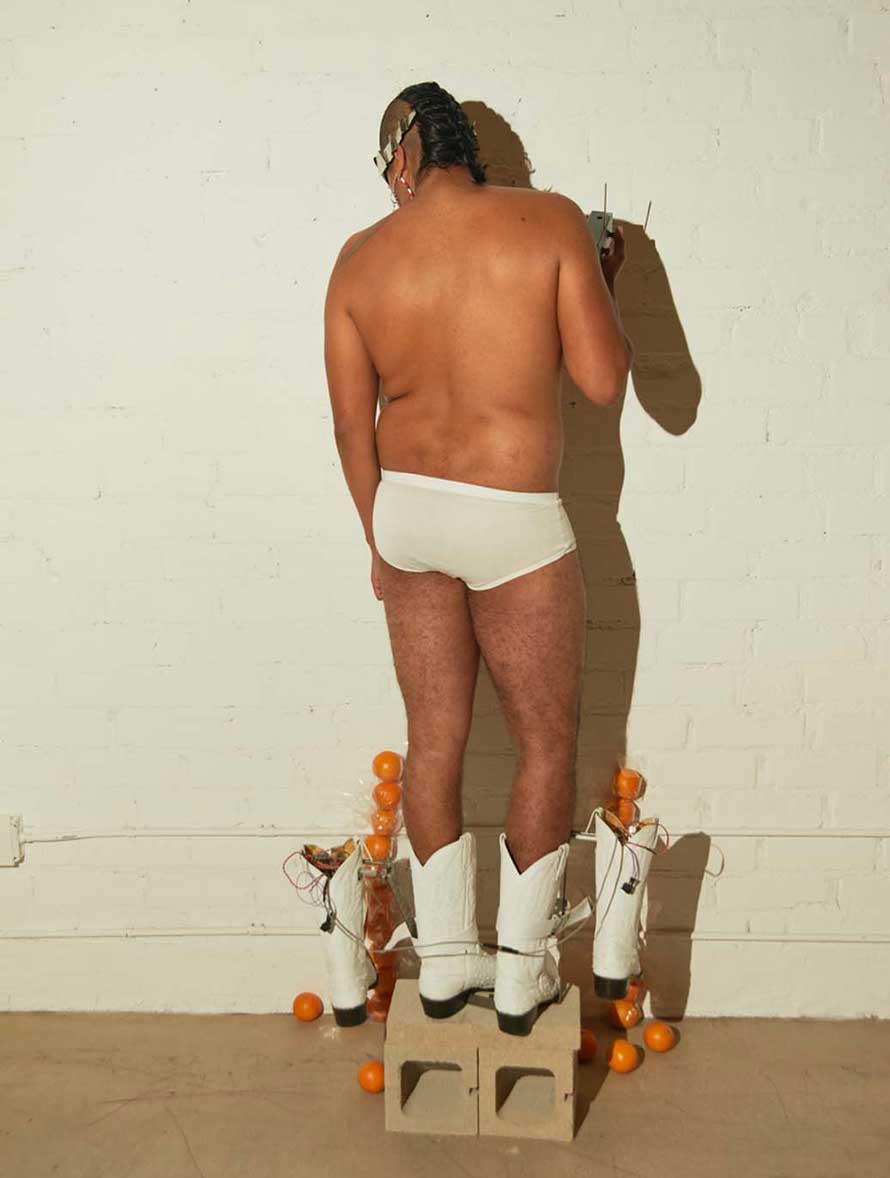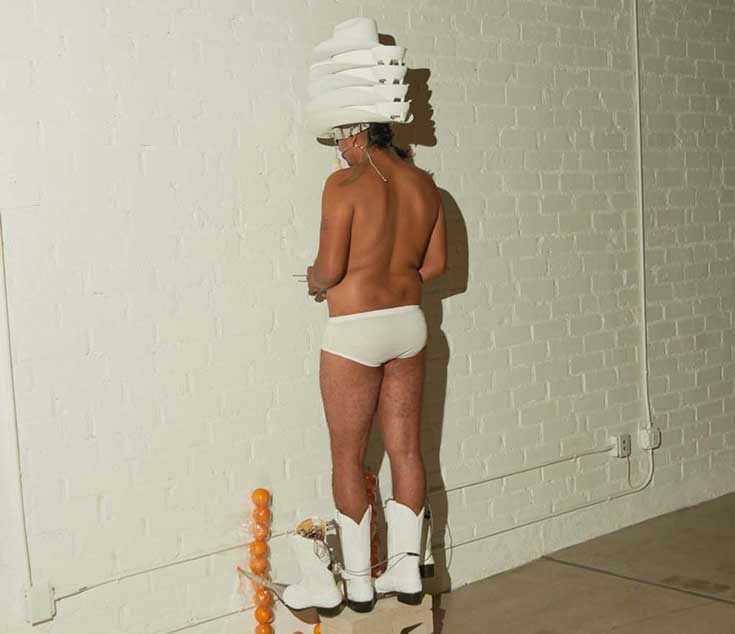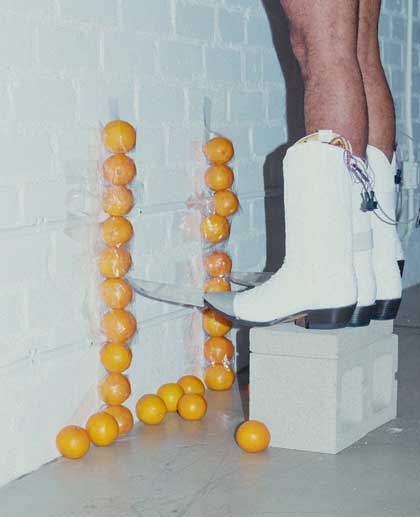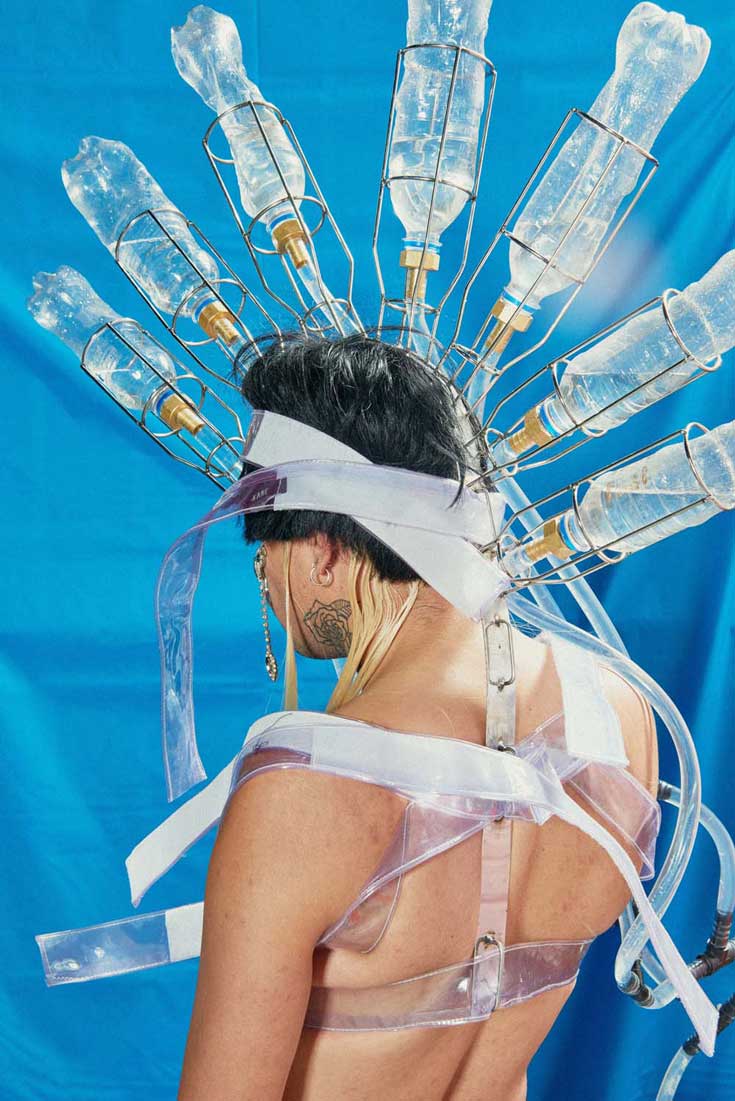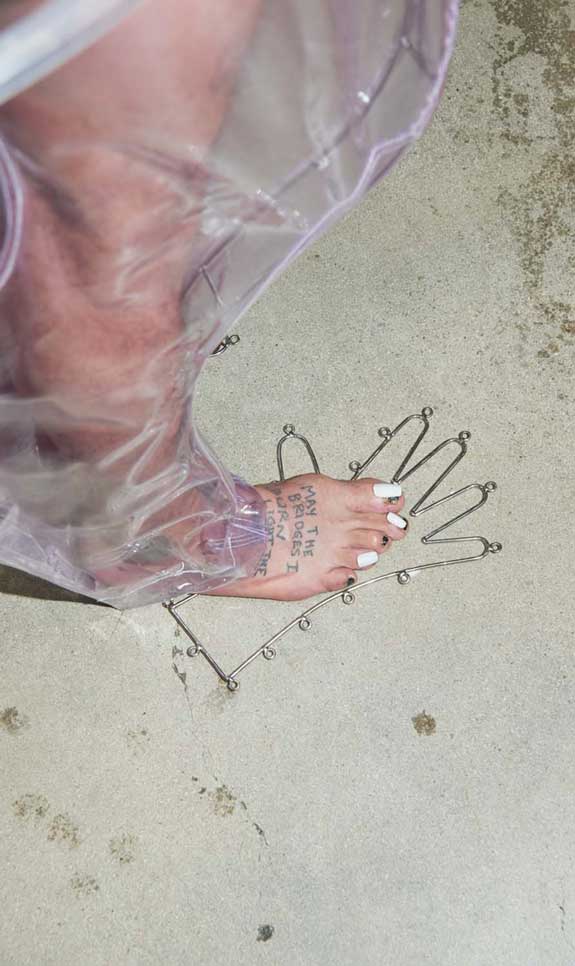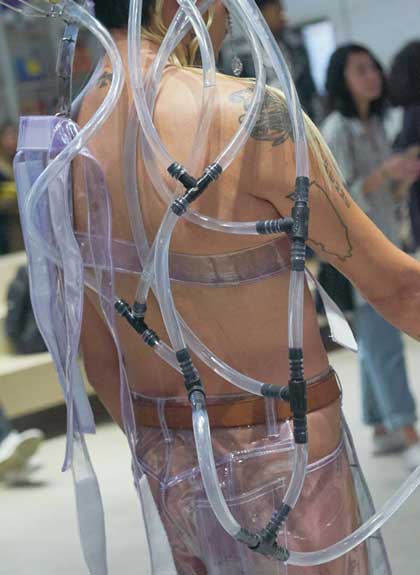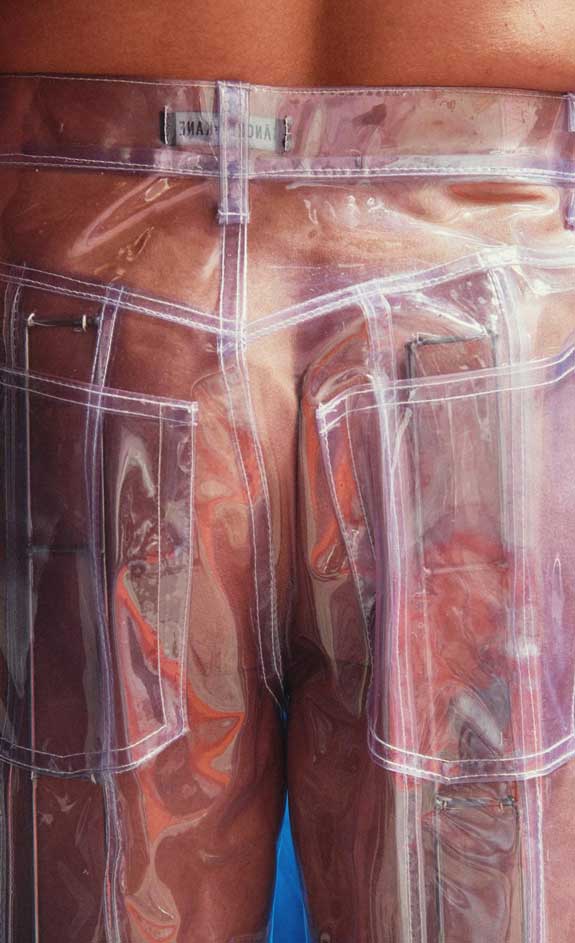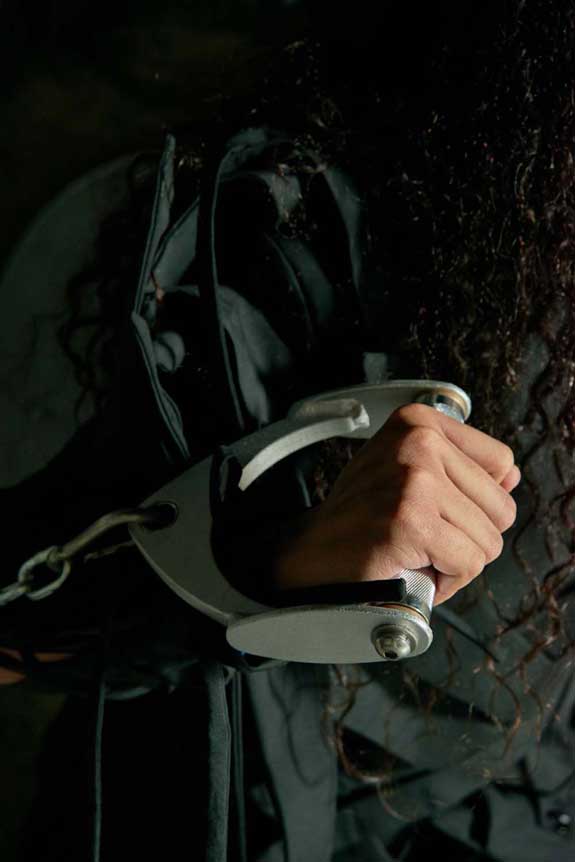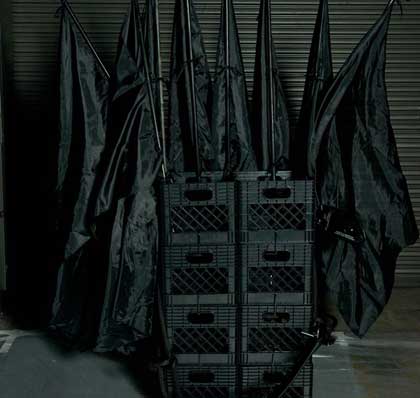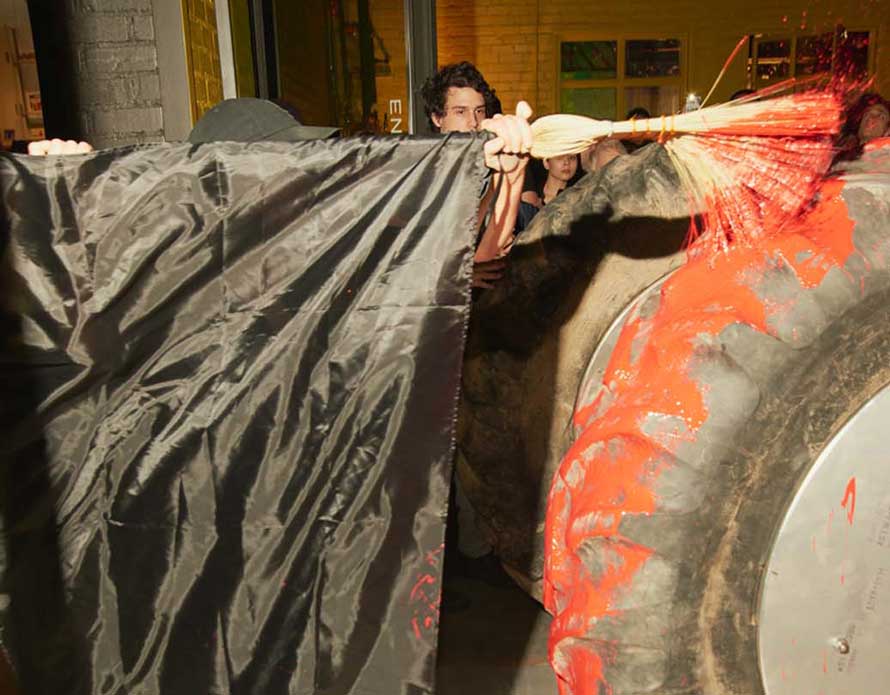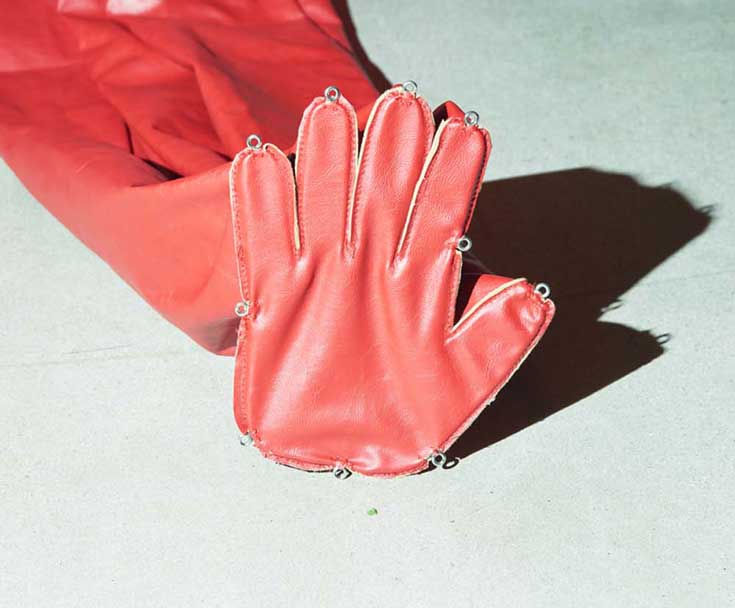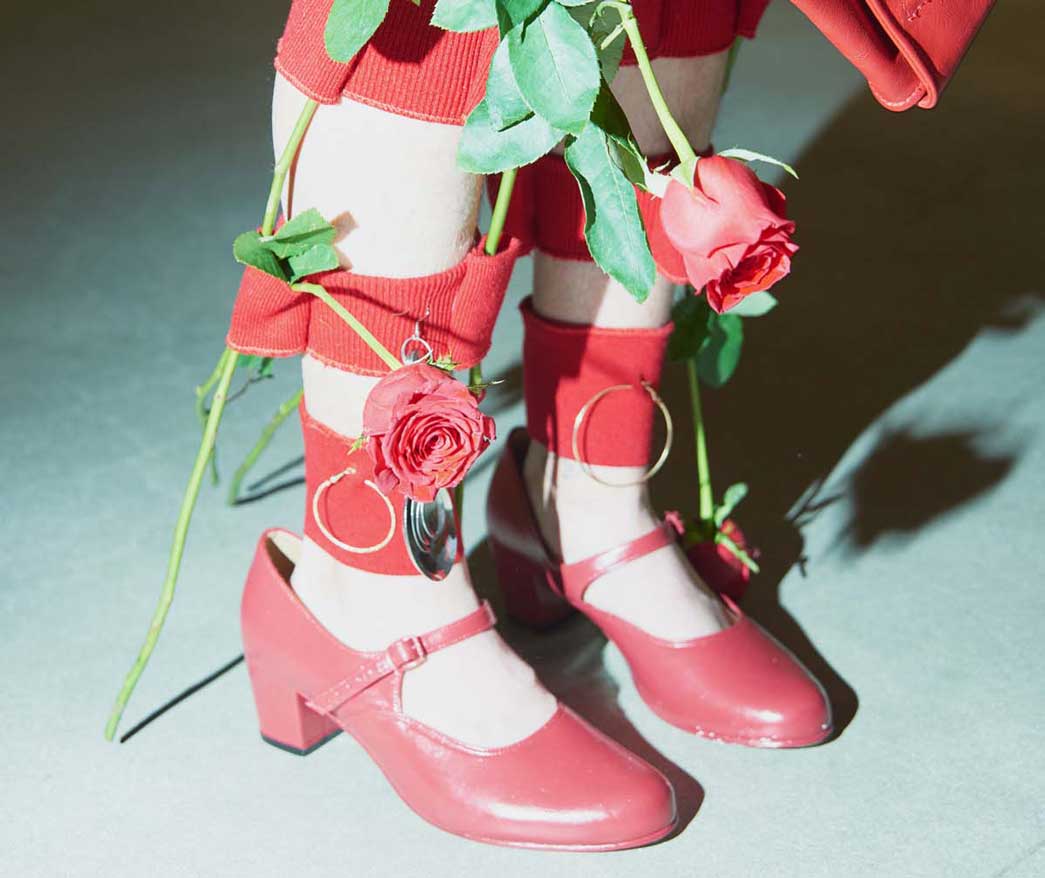 ---